Los Hospitales Shriners para Niños anuncian a los Pacientes Embajadores a Nivel Nacional 2017-2018 en Daytona Beach Eligen embajadoras a pacientes de Santa Rosa Beach, Florida y Erie, Pennsylvania...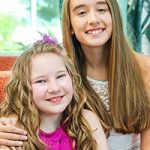 Todos los años, los Hospitales Shriners para Niños eligen dos Embajadores Nacionales de Pacientes para representar a todos los pacientes del sistema de salud. Durante el año, los embajadores cuentas sus historias de perseverancia frente a la adversidad y las formas en las que los Hospitales Shriners para Niños han impactado de manera dramática en sus vidas para cambiarlas para siempre. The new national patient ambassadors were introduced during the premiere of their documentary called Free to be Me as part of Shriners International's annual convention, known as Imperial Session.
Isabella Rose
Desde que nació, Isabella tuvo dificultades para alimentarse y dormir. Sus padres, Roselyne y Tim, iban de médico en médico buscando respuestas, pero nadie lograba identificar la causa. A medida que crecía su padres estaban cada vez más convencidos de que le pasaba algo grave. Cuando Isabella hablaba parecía que estaba silbando, y tenía infecciones en los oídos y los senos nasales constantemente.
En busca de respuestas
For five years, Roselyne and Tim sought answers for their little girl but continued to be unable to obtain even a cause or a diagnosis. Algunos profesionales creían que Isabella tenía una deficiencia cognitiva, para otros era sorda. Un día, un amigo de la familia de la zona de Chicago escuchó hablar de las dificultades de Isabella y sugirió a la familia que solicitara tratamiento en los Hospitales Shriners para Niños de Chicago. La familia no sabía en ese momento que su amigo Dick Anderson era miembro de Medinah Shriners y, en aquel momento, Presidente de la Junta de gobierno del hospital Shriners de Chicago. Anderson se sintió complacido de poder ayudar. Dijo que ayudar a Isabella y a su familia a encontrar la ayuda que necesitaban cambio su vida, y que esperaba que todos los Shriners comprendieran el impacto que pueden tener en los pacientes y familiares del sistema de atención.
En su primera cita, un equipo interdisciplinario de profesionales evaluó a Isabella y, en minutos, llegaron a un diagnóstico. Isabella tenía un paladar hendido submucoso, un tipo de paladar hendido que no es fácil de identificar, ya que el paladar está cubierto por una membrana delgada. "Parecía que el mundo se nos venía abajo. Finalmente teníamos un diagnóstico", dijo Roselyne. Se programó la cirugía de Isabella para reparar el paladar hendido y luego recibió terapia del habla durante dos años.
Para encontrar su propia voz
Isabella hoy tiene 14 años y vive en Florida con su familia. She has gone from struggling to be understood to becoming a gifted vocalist and hopes to perform professionally one day. Isabella trabaja como voluntaria en un hospital veterinario local, cuida mascotas y niños. Le gusta pintar, la poesía y las actividades al aire libre. También busca de manera activa formas de retribuir a los Hospitales Shriners para Niños.
WATCH HER STORY, "FREE TO BE ME: ISABELLA'S STORY"
Donate today and send your Love to the Rescue®. Los Hospitales Shriners para Niños cambian vidas todos los días a través de una innovadora atención pediátrica especializada, investigaciones de nivel mundial y una excelente educación médica. Our 22 locations in the United States, Canada, and Mexico provide advanced care for children with orthopaedic conditions, burns, spinal cord injuries, and cleft lip and palate.
Los Hospitales Shriners para Niños son una organización sin fines de lucro 501(c)(3) y depende de la generosidad de los donantes. Todas las donaciones son deducibles de impuestos hasta el máximo permitido por ley.