Sports Celebrities Making a Difference
Former Major League Baseball players Lance Berkman and Andy Pettitte show their passion and support for Shriners Hospitals for Children®, while current MLB pitching sensation Michael Wacha and NASCAR stand-out David Ragan promote their involvement.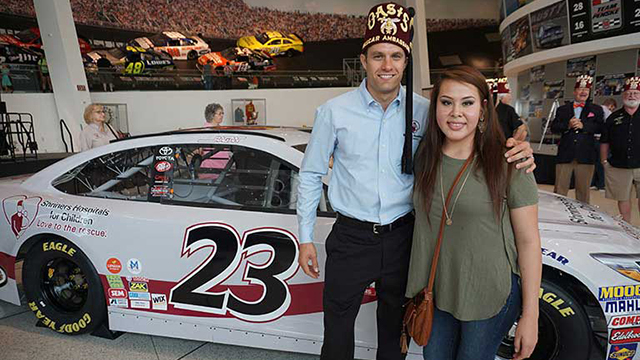 We've said it before! Starting a campaign is Easy Peezy Lemon Squeezy!
You don't need to be a sports celebrity to start a personal or team fundraising campaign. Every day Shriners Hospitals for Children provides the
highest quality care to children with orthopaedic conditions, burns, spinal cord injuries, and cleft lip and palate, all within a compassionate, family-centered and
collaborative care environment, regardless of the families' ability to pay.
Andy Pettitte Supports Shriners Hospitals for Children
Andy Pettitte is a former baseball starting pitcher who played 18 seasons in Major League Baseball, primarily for the New York Yankees. He also pitched for the Houston Astros. Pettitte won five World Series championships with the Yankees and was a three-time All-Star. He ranks as MLB's all-time postseason wins leader with 19.
Michael Wacha supports Shriners Hospitals for Children
Michael Wacha is a professional baseball pitcher for the St. Louis Cardinals of Major League Baseball. He played college baseball for the Texas A&M Aggies. The Cardinals selected Wacha in the first round of the 2012 Major League Baseball Draft from Texas A&M. With just one year in the minor leagues, he made his MLB debut on May 30, 2013.
Lance Berkman Supports Shriners Hospitals for Children
Lance Berkman, nicknamed "Big Puma," is a former professional baseball outfielder and first baseman. He played 14 seasons in Major League Baseball for the Houston Astros, New York Yankees, St. Louis Cardinals and Texas Rangers. Berkman is a six-time MLB All-Star and won a World Series championship and the National League Comeback Player of the Year Award with the Cardinals in 2011.
David Ragan supports Shriners Hospitals for Children
David Ragan is a professional stock car racing driver. Residing in Huntersville, North Carolina, he currently drives full-time in the Monster Energy NASCAR Cup Series, driving the No. 38 Shriners Hospitals for Children Ford Fusion for Front Row Motorsports.